Musicians With Dreadlocks Top 10
Musicians With Dreadlocks - Top 10 - Ultimate Guide | Dreads UK. The most influential musicians with dreadlocks that have inspired the most people today.
Number 10 - Faye Tozer - Steps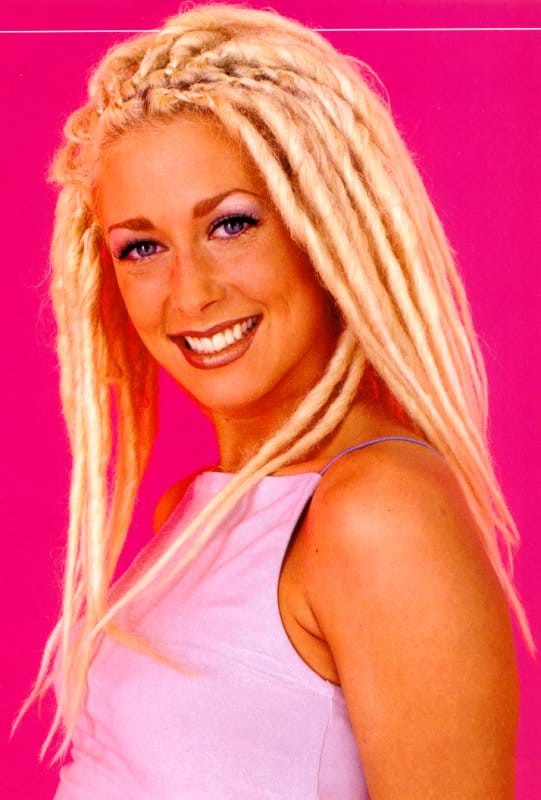 Faye was 1 of 5th of the pop group Steps. Their music was classic 90s vocal pop band with young teens girls the target market. That said, the Gay community loved it too.
None of the members played any instruments in the band, so visually, it was all vocals and dance moves.
When I was reminded of 'Faye from Steps, I thought nothing of them except oh yeah, she had dreadlocks. But looking at them closer for this video I noticed that they're actually exactly the same as Angelina Jolie from Gone in 60 seconds! I wonder if they had the same stylist.
If you look, you can see they are also twisted and sealed with a firm holding product. This might go some way to explain why she didn't have them in many other videos.
It would appear that they are a temporary fixture for a fun and different look.
Steps started touring again in 2016 and you can see from the footage that Faye has her hair in crinkle curls. As if it's been braided and left and then the braids removed right before the show by her stylist for the performance.
I do wonder if she's going for something similar to dreadlocks without actually going for the same design as before.
In fairness, back in the day, no one knew how to do dreadlocks, so it wasn't as if there were many options. 
Although these days, a quick click on the Dreads UK website for some braid in dreadlocks. I doubt very much she's aware this. Is even possible.
*tragedy*
Well, Faye, next time, pop into Dreads UK and we'll hook you up with some lush blonde loss for your next show. Otherwise someone else will do it before you. And then all your fans will say *tragedy*.
Number 9 - Layne Staley - Alice in Chains
Another 90's artist that inspired so many with his dreadlocks is Layne Staley. 
Although his dreadlocks were relatively short lived, In the height of the Seattle music scene where grunge originated,  his platform meant that old school fans from the early days know about his dreadlocks very well. 
Laynes dreadlocks are pure neglect free form dreadlocks. It looks like he's had them for quite some time and I get the impression he wasn't doing it specifically for dreadlocks. 
This guys approach echoes so many who go for dreadlocks with nothing but free forming. He had no care or concern about how his hair looked. So much so, he wasn't even going for dreadlocks. They just happened.
I know, pretty grunge right.
You can tell how zero cares were given by how his hair looked and how dreadlocks weren't at all a goal as he didn't have them very long at all. 
He cut off all his hair before they were fully formed, fully matured dreadlocks.
Considering another theory, It is entirely possible that he was going for dreadlocks as it was very early 90s and the only option was neglect back then. 
This would mean he might have just got sick of waiting for them to fully form and removed them. 
By the looks of things, he couldn't have had them for more than 2 years as they take 3 years to be anywhere near full maturity from free forming.
Either way, this guy had his dreadlocks long enough to inspired enough people to make theft. For this reason, he gets in at number 9.
Number 8 - Adam Duritz - Counting Crows
The Counting crows had a few hits, but their most notable was their pop rock track Mr Jones in 1993. The thing that's particularly unique about this guys dreadlocks is that they appear to actually be made really well.
But to view his dreadlocks in good light, the video for 'Round Here' you get a really good look.
From a perspective of a salon stylist, I'd say at the very least, they are as good as the dreadlocks we were making in salons in the early years.  They were on the short side tho. But never the less, great quality, well sectioned healthy dreadlocks.
Fast forward and a rather interesting development has taken place. He appears to be wearing a wig.
Now, we are in no way mocking this at all. To explore it tho, we're curious.
Male baldness is a huge deal for a lot of guys. I imagine having such awesome locks for so long, that loosing your hair could have quite an impact. But as far as wigs go. 
This isn't a great advert for whoever made it. But then I suppose anything is better than spending $10'000 for Jason Momoa's dreadlock wig.
The video from 2009 shows his first hair piece. It could be just a hair piece.
But the interview in 2018 he did, well, …………
Adam, you're awesome and we love ya, but get in touch so we can make you a new one. 
Number 7 - Brandon Boyd - Incubus
Incubus were a lush mix of funk, rock and hiphop. Not many bands pull of such a mix of genre's. But they most certainly did. Brandon Boyd had his dreadlocks in the early 90s and kept them for around 5 years.  It was only the die hard fans from the early years that would remember his dreadlocks.
When incubus formed in 1991, you can see from an early video performing in his mates backyard that his hair was unlocked, long and straight.
From the music video 'Take me to your leader' released in August 1996 his dreadlocks look very well formed and I'd say they were at least 2-3 years old minimum by this point. Which means he started the journey to dread town around 93.  This would have been just before they found their larger success.
After flat our touring from 96-98. They took a 2 year break, then released 'Make Yourself'. Which is where their mainstream success hit. 
But by this point, he'd cut off his dreadlocks, hence why his dreadlock influence remains with the die hard fans.
Musically, it comes as no surprise that they are influenced by Primus. Dreadlock wise, by Alice in chains and also dreadlock wise, Rage against the machine.
Although most of the newer fans won't remember Boyd with dreadlocks, we haven't forgotten.
Number 6 - Joaquin 'Quino' Mcquinney - Big Mountain
When we asked what musicians with dreadlocks people knew of, so many people answered 'ME'. Meaning, themselves, not me personally.
This band aesthetically look like a lot of the dreadlock musicians you find on the festival circuit and underground music scene. But somehow, they managed international mainstream success with it with their hit 'Baby, I love your way' in '94.
The reason they look so similar to all those festival bands is no surprise, given their origins are of an underground festival family philosophy called 'rainbow warriors'. 
Most of you won't have heard of the rainbow family of living light, as its not something you find unless you are looking. Or you were raised in and around festivals or travelling communities.
But if you ask most festival traders and organisers of small grass roots festivals like small world, tribal earth or the green fields of Glastonbury. It's a name most are familiar.
This would also explain the reason they changed their name from Shiloh, to Big Mountain. Named after a Native American reserve in Arizona.
Quino, the lead singer of the group was of Mexican and Irish herratige. He was said to have been inspired to Reggae from legendary singer Bob Marley. This would gaoling way into explaining his dreadlocks.
As we've mentioned in a number of video segments. The early 90's was scarce on its information on dreadlocks. The fortunate few who chose the only good path at that time was the neglect method. It was simply to stop brushing.
This guys, and the majority of the band had incredible locks for their day. Something I don't doubt was thanks to Bob Marley's 'natty' philosophy.
In 2016 the band released their first album in 14 years. And we're pleased to see, him and fellow band mate still have some sick dreadlocks.
Number 5 - Linda Perry - 4 Non Blondes
Following the 60's hippie movement and going into the 70's was the punk revolt, then into the 80s we saw the merging of these two cultures. 4 non blondes were very much a mix of these styles aesthetically bringing us into the early 90s
Linda Perry of Brazilian and Portuguese decent, along with her all female bandmates got a huge hit with 'What going on' in 1992 with their band 3 non blondes. 
Although this track was a huge hut and took Linda to international success. her music career spans so much wider than just that.
Over the years Linda has worked with Courtney Love, Alicia Keys, James Blunt, Britney Spears and pink to name a few, writing songs for a number of them.
The earliest video we can see her dreadlocks on 14th February 1991 with video 'Train', where the dreadlocks look like they are still quite young. I'd say perhaps somewhere between 1 and 2 years old freeform dreadlocks.
We don't know exactly when she removed her dreadlocks, but it was some time between the video promo for misty mountain hop in 95 and the video release of 'Success' 16th September 1996.
In 2015, Perry was inducted into the songwriters hall of fame. 
And in 2018 nominated for best original song for her collaboration with Dolly Parton for the Netflix film "Dumplin' 
Although Perry no longer has dreadlocks. She was so influential back in the 90's that she definitely makes our top 10 list!
Number 4 - Johnathan Davis and Brian - Korn
Korn formed in 1993 and their debut album dropped in 94. But their first mainstream success hit in 98 with 'Follow the leader' 
Honestly, every single track Korn ever made was absolutely banging! 
It wasn't just Jonathan that had dreads, the whole band had dreadlocks and one stage or another. But im focussing on Jonathan and Brian simply as it's their names that tends to gets mentioned. Here is Brian with a monkey maintaining his dreadlocks
During an interview with Brian, he spoke of the drug problems sweeping through the band. Jonathan reflected on his drug abuse as a tool to a non specific god and embracing the experience, which has lead to continued battles with depression and mental health.
Brian however, surrendered that he was out of control and in his words "cried out to God" and had a powerful encounter with Jesus.
As did the bassist Fieldy. I'll save the details of this for another video as that needs a whole video for itself.
At around this time  Brian got rid of his dreadlocks. But they all still inspire people today as Korn are still playing out and gaining new fans. They are said to be releasing a 13th album along with Brian who previously left for a season.
Korn also have expressed their influences in Rage against the machine and Alice in chains among others. Its like a big old dreadlock musician soup.
Sad that the dreadlocks have disappeared but great to hear there is more music to come!
Number 3 - Zach Dela Rocha - Rage Against The Machine
Zach is probably one of the most influential dreadheads of the 90s inspiring hundreds, perhaps even thousands of dreadheads.
When asking people what dreadheads they know from the music scene, few people fail to mention Zach Dele Rocha.
The music of rage needs no introduction, and if it does….well it doesn't, you just listen to it. Wither you're into Rap Metal or not, it's rare to find someone who doesn't like them.
Zach is of Mexican America Irish German decent. Somewhere in this mix gives him super curly hair which results in an afro. This thick hair also means even free forming his dreadlocks, makes them easy to second evenly with very little effort.
in 1990 we can see his hair is pretty short. Most likely the beginning of his hair growth for dreadlocks
by 92 with a year of growth, we see the locks taking form, though sparse and still pretty short. 
In  93, we see that the length has grown, and the locs are much more mature and formed in one of his most recognised show performances. One downside of curly hair when freeforming. You loose, so much length as they grow so slow. 
It is around this time that the majority  of his dreadlocks influence.
In 1999, their track was featured on the Matrix movie and the following year. band split in October 2000
Maybe the Matrix twins stole his dreadlocks as at some point around this time, his dreadlocks were no more..
We don't know when exactly he got rid of his dreadlocks, maybe let us know in the comments. 
Number 2 - Lenny Kravitz
Lenny Kravitz is a Blues, rock, soul funk artist. Well basically any genre he can get his hands on he smashes.
His dreadlocks are clearly free form locks with his afro textured hair not to dissimilar to Bob Marleys just a little less "Natty". 
This is no surprise given his mothers back African American influence combined with his fathers white European.
There is a bunch of videos out there on Lenny's dreadlocks already in terms of style. Shout out to Knot Nation, shout out to TPL locs. I might do a video on this in the future if enough people ask, but those great videos already exist.
Sometime between 1997 Levis Jeans Commercial video and 1998 release of the track 'Fly away, he cut off his dreadlocks and rocked an afro for a while. But he's on his new set of dreadlocks as we can see in the 2018 release of the music video 'Low'
Number 1 - Bob Marley
You can't have a top 10 anything dreadlocks without mentioning Bob Marley.
If you don't know who Bob Marley is, you will know his music. He is widely know as one of the main pioneers of reggae. His music has been in everything from kids shows, to films, tv adverts, political protest rallys, you name it.
His music and life was hugely centred around his commitment to dreadlocks and were embroiled in his religious beliefs of Rastafarianism.
He was actually born exactly 100 years after dreadlocks were introduced to the Rasta culture in 1845 by the sadhus of India.
In British culture, the dreadlocks of the druids and Celts were underground by this time and never hit the mainstream
So when bob came along with his music all about dreadlocks, its no surprise that when people think of dreadlocks, they think of Bob Marley.
Regardless of wither you were personally inspired by, a fan of or in any way attributed to bob, we can all understand why the mainstream market still make that link today.
The biggest influences of dreadlocks today are changing all the time. With social media almost as big, if not bigger than TV, new influencers are arrising and its not rules by mainstream media.
Whichever way dreadlocks influences come from, Bob Marley will always hold the historical number 1 spot.